Mobile Apps
It's the best of the Bulldog Nation in one, central mobile app for your mobile device. The official University of Georgia mobile app provides students, visitors, parents, fans and employees with a one-stop spot for some of the most popular services on campus.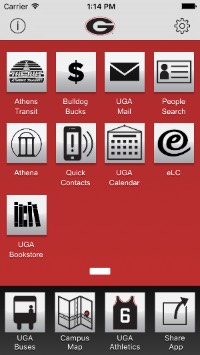 Need to find when the next bus is coming? Plan your meals at the dining commons around the crowds? Check your UGAMail? Find a building, print kiosk or computer lab? Or, catch the latest athletic scores?
This app does all of that — and more.
The official UGA mobile app brings together several key services on campus into a single place available at your fingertips.
PLEASE NOTE: The UGA Mobile App is available only for Apple and Android devices. Any other app, including for Windows phone, is not sanctioned by the University, and may contain malware or may compromise sensitive information on your device. Please be aware of this when downloading apps.
Features include:
Campus Transit bus tracker: Find out when the next bus is coming to your location on campus. View scheduled bus arrivals at stops and find other routes that can get you where you need to go. Save your favorite bus stops and routes quickly and easily.
Athens Transit: Brings you bus tracking and predicted arrival times for all routes and bus stops serviced by the Athens Transit bus system.
UGAMail access: Sign in to your web-based UGAMail in the app and check your email.
Single-Sign-On for iOS devices: iOS users can sign into CAS-authenticated modules on the app, such as eLC and UGAMail, using the fingerprint scan on their device. This feature will be available for Android users in a future update.
Campus map and building search: Search for buildings by name or with the building code on your class schedule. Find points of interest on a campus map, such as print kiosks, computer labs, bike repair stations, parking decks and green spaces.
Food Services: Get real time capacity percentages at the dining commons and their operating hours. Build Your Plate feature allows you to select your meal each day in each of the dining commons on campus. Learn the nutritional value of your meal. Or, purchase or upgrade your meal plan.
WUOG Radio: Play a live stream of the WUOG student-run radio station.
Athletic Association scores and news: Get the latest news and scores for Bulldog athletic teams, as well as upcoming athletic events.
Parking Services: Register for parking, pay citations, view parking lot locations and fees, even find out how much the parking decks cost for a few hours.
eLearning Commons (eLC): Access class materials and assignments on your mobile device.
Sustainable UGA: Learn about the sustainable practices at UGA, such as recycling efforts, rainwater collection, and composting.
Career Center: Access DAWGlink, learn about upcoming events, and get tips on how to advance your career.
UGA Involvement Network: UGA Involve is the student activities calendar for hundreds of student organizations on campus.
UGA Graduate School: The Graduate School administers all graduate programs of the University.
Gameday: Get the latest tailgating, parking and dining information for football game days at home.
Greek Life: Find information for the 61 national Greek-letter men's and women's organizations on campus.
Student Accounts: Pay your University bills online.
People Search: Get contact information for UGA students, faculty and staff, as provided by the UGA People Search.
Major Search: Search for majors across the University or within the individual schools/colleges. Find the perfect match for your goals and studies.
Quick contacts: Get a list of emergency contact phone numbers, including those for police, hospitals, poison control and Designated Dawgs — a free designated driving service.
Polls and surveys: The UGA Student Government Association (SGA) uses a Qualtrics-driven tool to help it communicate with students about policies and goals.

Customize your app homescreen

: Add modules you use the most, and remove those you don't
Feedback: SGA and EITS want to continue to improve the official UGA mobile app. Got an idea? A suggestion? Let us know your thoughts.
The official UGA mobile app is primarily a collaboration between the Student Government Association (SGA) and the University's Enterprise Information Technology Services (EITS).
Other campus partners include: Auxiliary Services, Athletic Association, the Office of Vice President for Instruction (OVPI), the Office of the Vice President for Student Affairs (OVPSA), Public Affairs, Admissions Office, Registrar's Office and Designated Dawgs.
What's new in this version:
A UGAMail module for students, faculty and staff to access their web-based university email directly through the app.
Single-Sign-On for iOS devices with Touch ID. iOS users will be able to sign into CAS-authenticated modules on the app, such as eLC and UGAMail, using the fingerprint scan on their device. This feature will be introduced to Android users in future updates.
Customize your app's homescreen by adding modules you use the most, and removing those you don't.
For comments or suggestions for future versions of the UGA app, contact the EITS Help Desk at 706-542-3106 or helpdesk@uga.edu.