Univeristy of Gerogia Announcement
Reported July 5, 2017
Well, Phish Spotters - it's the day after a holiday. We have all been away from campus for a day, or maybe more. It's back to work and a widespread phishing attack.
We have discussed how the online bad guys try to play us in the past. By now we should all expect to see at least one, if not more, phishing messages in our inboxes after a holiday. The phishers try to sneak one past us while we are distracted, in a hurry or just plain not paying as much attention as we should.
The red flags on this one are flying high!
"Univeristy of Gerogia"
Recipient not named
Strange capitalization and punctuation
Link not clearly visible
Not sent by a specific person
No contact information
Some of these messages have "UGA Admin Portal" as the sender while others list an actual person. In either case, it is highly likely that someone on campus has compromised login credentials.
From: User Name <username1[@]uga.edu>
Sent: Wednesday, July 05, 2017 10:47 AM
To: User Name 2 <username2[@]uga.edu>
Subject: Univeristy of Gerogia Announcement.


You have 2 Important messages from your Faculty, view log sheet below;

REVIEW_HERE: (Link removed.)

Regards

Univeristy of Georgia Admin Portal.
Don't forget that you should only provide a username and login on secure sites. Look at the address bar in your browser (URL info may show up in the lower part of your browser window):
Does the URL start with 'https'?
Is there a lock icon to show the login page/site is secure?
Is there an information icon you can click on to view site security info?
If the answer to any of these questions is "no", please be hesitant to provide your credentials. The site is unlikely to be secure and your credentials are likely to be at risk.
If you think your credentials are compromised, you need to change your password immediately.
Google
Reported June 28, 2017
The bad guys are at it again - this time with a Google Sweepstakes win!
This is a relatively well-crafted phishing attempt using recognized logos. So what gives it away? The following points provide clues to the email's bogusness:
The sender's address seems off. (A corporate email would have a corporate address - like 'google@gmail.com' - not an obscure sequence of letters and numbers.)
Has an attachment. (It is, arguably, supposed to be a surprise win)
You (the recipient) are not addressed by name.
Language is stilted and just plain odd. (Many Google users will know Google does not 'talk' like this.)
It was supposedly sent from Google UK. (Why not the US branch of Google?)
There is no contact information (There really should be some, since it is supposed to be a corporate email. Even Publisher's Clearing House provides contact info.)
Does Google even have a sweepstakes? Nope! But they do have a page on how to Avoid and report Google scams.
We included an image of the message with these points highlighted. You can click the image to open it in a new window.
[Google logo]
[Gmail envelope logo] Hello,
Google Inc. wishes to inform you that your e-mail account has been selected and therefore has made you one of our winners in the GOOGLE E-MAIL ONLINE SWEEPSTAKES PROMO.
This comes as a result of your active use of our online and ancillary services.
Check attached PDF FILE for your Official NotificationLetter and Claims Instructions.
Congratulations!!!
Google Sweepstakes Team
Google UK.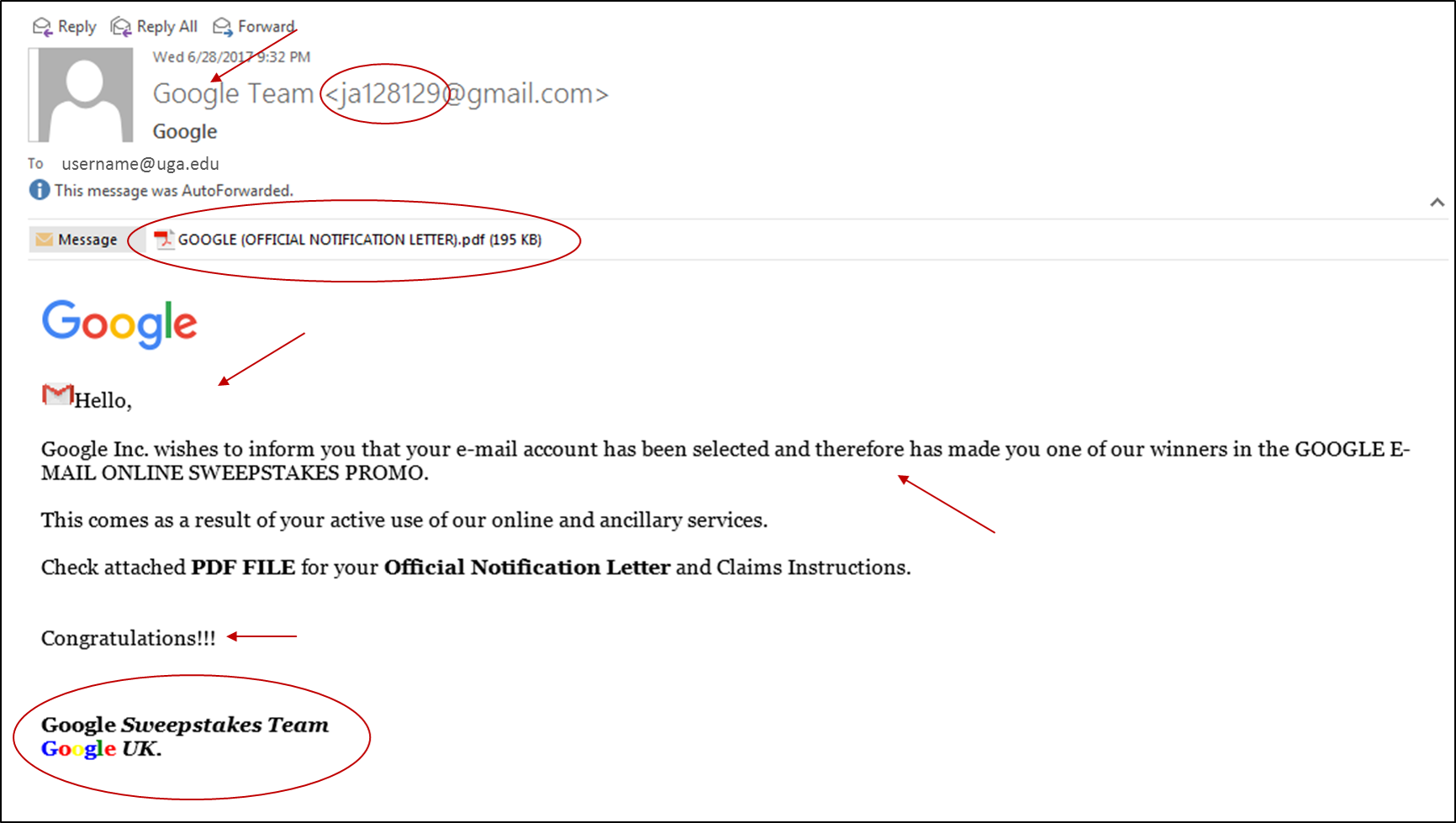 What can you do to investigate scams like this one without endangering your devices? Google it! (Kinda ironic, huh?) Turns out this scam has been cropping up for a couple of years. Phishers gonna phish.
Security Notice on UGAMail Account
Reported June 20, 2017
The phishers have turned thing up another notch! We have gotten reports of the following email that claims to come from the EITS Help Desk. It does not.
The phishers have done Thier homework and know UGA pretty well.The message is well crafted. The red flags may be difficult to spot; but they do exist.
The recipient is not addressed by name
The complete link is not provided -EITS will not direct you to "click here"
The language is odd in a few places: "Kindly click here"; "log on to" a page that "will log you in"; "assist us resolve the spam issue"; "your continuing attention to help desk security notice"
There is not official Help Desk contact information in the signature
The page was blocked on campus and the hosting vendor (where the website is) was notified. The hosting site has removed the page.
From: EITS Help Desk <helpdesk[@]uga.edu>
Sent: Tuesday, June 20, 2017 7:58 AM
To: User Name <username[@]uga.edu
Subject: MyID Account Deactivation.
Security Alert
We detected WannaCrypt ransomware spam activities in your UGAMail account. Kindly click here (link to fake CAS authentication site removed) to log on to (this will log you in via the UGA Central Authentication Service portal) to assist us resolve the spam issues on your UGAMail email account.
Taking the proper measures to protect the confidentiality of all UGA accounts, is our collective responsibility as good stewards.
Thank you for your continuing attention to help desk security notice.
EITS Help Desk
Anyone who may have clicked the link before the page was shut down landed on a site that looked 100% legit - except for the URL (the web address).
The fake page's URL was "cas2ugaedu.atwebpages.com/...". What's wrong with that?
A legit web address for a UGA service should look more like this: "service.uga.edu/".
A UGA website should never end in ".com" or have a .com before the first / (slash.)
===
MyID Account Deactivation.
Reported on June 15, 2017
Many of us received this phishing message Thursday morning. The phishers stepped up the messaging from Wednesday's attempts even though both phishing messages link to the same URL.
This message has copied wording from the CAS login page to make it look legit but UGA faculty and staff were not easily fooled and reported it immediately.
Like the phishing attempt Wednesday, EITS has blocked the link in this email from campus just to be safe.
From: User Name
Sent: Thursday, June 15, 2017 7:58 AM
To: Same User Name
Subject: MyID Account Deactivation.
UGA's Single Sign-on for Web Services
CAS provides a common login experience for users accessing UGA web services with their MyID credentials through a one-time login. to avoid deactivation of account see below.
ACTIVATE YOUR ACCOUNT
Copyright © 2005 - 2017 CAS, Inc. All rights reserved.
Powered by University Of Georgia Central Authentication Service 3.5.1
New Message For You.
Reported on June 14, 2017
It seems like everyone got a version of this phishing message midday Wednesday.
This one seems like a pretty obvious phishing attempt but EITS blocked the link from campus just in case someone was tempted to click it.
From: User Name
Sent: Wednesday, June 14, 2017 1:54 PM
To: Same User Name
Subject: New Message For You.
You have 2 Important message from your Admin Center.
Sign In
Thank You
Mail Management.
Bank of America Alert: Your notice of suspension has been attached
Reported on May 30, 2017
Wow, Phish Spotters! Y'all are on this one. Yesterday we were wondering why the phish front was so quiet and today the boat came in. Several of you caught and reported this phish in quick succession.
The phish is kinda funky - and it's not just the phishy smell - because it combines a classic attempt to make the recipient panic with an obviously bogus message.
There are two honking huge red flags:
No body text
An attachment
Opening the attachment would probably open malicious software to infect your machine. Or direct you to a website where you would be asked to provide account information. (Phishing 101: You should avoid opening attachments unless you are expecting them and are certain they are legitimate.)
Now, banks can, and sometimes do, suspend accounts. They can do so without notice - but they rarely do that unless something very hinky is going on (multiple overdrafts, bounced checks, a suspicious activity report, etc.) If a bank was going to notify you of an account problem, they would typically do so via regular mail. An official notice would include logos, professionally written content, official signatures and contact information.
From: Bank of America <no-reply[@]amailboxatahostingsite.com>
Sent: Tuesday, May 30, 2017 9:28 PM
To: User Name <username[@]uga.edu>
Subject: Bank of America Alert: Your notice of suspension has been attached
There was an attachment, but absolutely nothing in the body of this email.
It's important to remember that your bank will not contact you by text message, Facebook message or email asking you to disclose your personal information. If a sender claiming to be your bank asks for personal information, do not reply. You can always look up your bank's customer service number and call for more information if you need to.
This is your email administrator
Reported May 18, 2017
Today on Fresh Phish we hear from phishers who have set up a faked site in lovely, tropical Indonesia.
There are 10 things in this email that make us here at Fresh Phish sit up and say, "Nope! Totes a Phish. Absolute chum bucket." (See what we did there?)
Can you spot the 10 red flags that set us off?
From: User Name
Sent: Thursday, May 18, 2017 9:23 AM
To: Same User Name
Subject: This is your email administrator
ATTENTION!
=========================
Dear User,

This is your webmail administrator. Please,be informed that the email server has just been upgraded and your email needs to be reset immediately.
This process is to keep The University of Georgia system server updated and protected as always.

CLICK BELOW TO RESET YOUR EMAIL NOW:
Sign In [Link to a bogus site in Indonesia has been removed.]


Regards,
University of Georgia.
The sender name - This came from a named person and not from an official EITS communication channel.
EITS won't use all caps to shout at you; it's unprofessional.
The generic "Dear User" greeting.
Informs us that the email comes from our "webmail administrator" -that should be handled in the sign-off.
An action needs to be taken immediately. Talk about a short deadline!
We are called on to take that action.
It is implied that if we don't take action "The University of Georgia system server" won't be protected. Which, in turn, implies that if something goes wrong it's our fault!
The link is not provided as a cut and paste link. EITS will not hide links behind text.
EITS will not ask you to validate your UGA MyID and password in an email. And they will not link you to a page with a form to validate your credentials.
The sign off is not from EITS and it contains no contact information.
Bonus points if you noticed the sender is also named as a recipient for the message. That's a pretty strange thing for a business email to do - which contributes to our not falling for the phish.
How did you do? If you got half or better you're on your way to being an expert phish spotter!
Don't feel bad if you got fewer. Practicing here is safe. And you'll be an expert in no time.
Library Account
Reported May 11, 2017
This phish is the best of the best - a real catch - but it still stinks! What makes it so good?
The spelling and grammar are perfect.
The language is very business-like.
The library email address looks legit (But we discovered that it's faked. The email actual account is in Turkey.)
The CAS login URL looks legit. (It's faked too. It goes to a site registered in the Central African Republic that is designed to steal your UGA credentials.)
The personal email address of the Library Representative looks legit (but it's another bogus email address.)
This phish is a perfect example of how international phishing is, and how easy it it for the bad guys to fake email addresses and websites and present themselves as someone they are not.
So is there a Red Flag? Yes. It has two. The message threatens to take away a service and you have to act to stop it.
From: Library Services <library[@]lib.uga.edu>
Sent: Thursday, May 11, 2017 10:09 AM
To: User Name
Subject: Library Account
Dear Library User,

Your access to your library account is expiring soon due to inactivity. To continue to have access to the library services, you must reactivate your account.

For this purpose, click the web address below or copy and paste it into your web browser. A successful login will activate your account and you will be redirected to your library profile.
http*://cas.uga.edu/cas/login [The link to a very good but bogus CAS login page in Turkey has been removed.]
If you are not able to login, please contact Library Representative at library.rep[@]uga.edu for immediate assistance.

Sincerely,

Library Representative
University of Georgia Libraries
University of Georgia
Athens, Georgia 30602-1641
Tel: 706.542.3251
These bogus addresses and the fake CAS site have been block on UGA campus.
A special shout out to JCS who was first to report this library phish and to TP, who brought it to our attention.
Name@uga.edu is no longer active!
Reported May 9, 2017
Tl;dr - This email verification scam uses an altered official message to try to trick you into clicking a validation link. Don't fall for it.
One of the most common phishing scams we see here on campus tries to trick you into verifying your email address. These scams threaten to take away your email account. If you don't click to validate, the message claims, you will not be able to use your email to send and receive messages.
This particular example is unusual:
The banner shape and borders indicate that parts of an original, official, email message have been chopped up to make this phish. (Minced phish! Eeeeeuw.)
The phish actually included the correct name in "Dear Name" (before we changed it to protect someone's identity.)
The email address used in the body of the message was real and correct (we changed that too.)
The 'Validate' link points to a government site in the Philippines which is either spoofed (faked) or hacked.
Official seeming language has been included in the footer to reinforce the impact of the phish
Fortunately, there are also red flags in this email: grammatical errors; a call to action; a short deadline; and a threatened loss of service.
From: TeamOffice365 Microsoft <noreply-security[@]kast.com>
Sent: Monday 5/8/ 2017 5:30 PM
To: Name <name@uga.edu>
Subject: name[@]uga.edu is no longer active!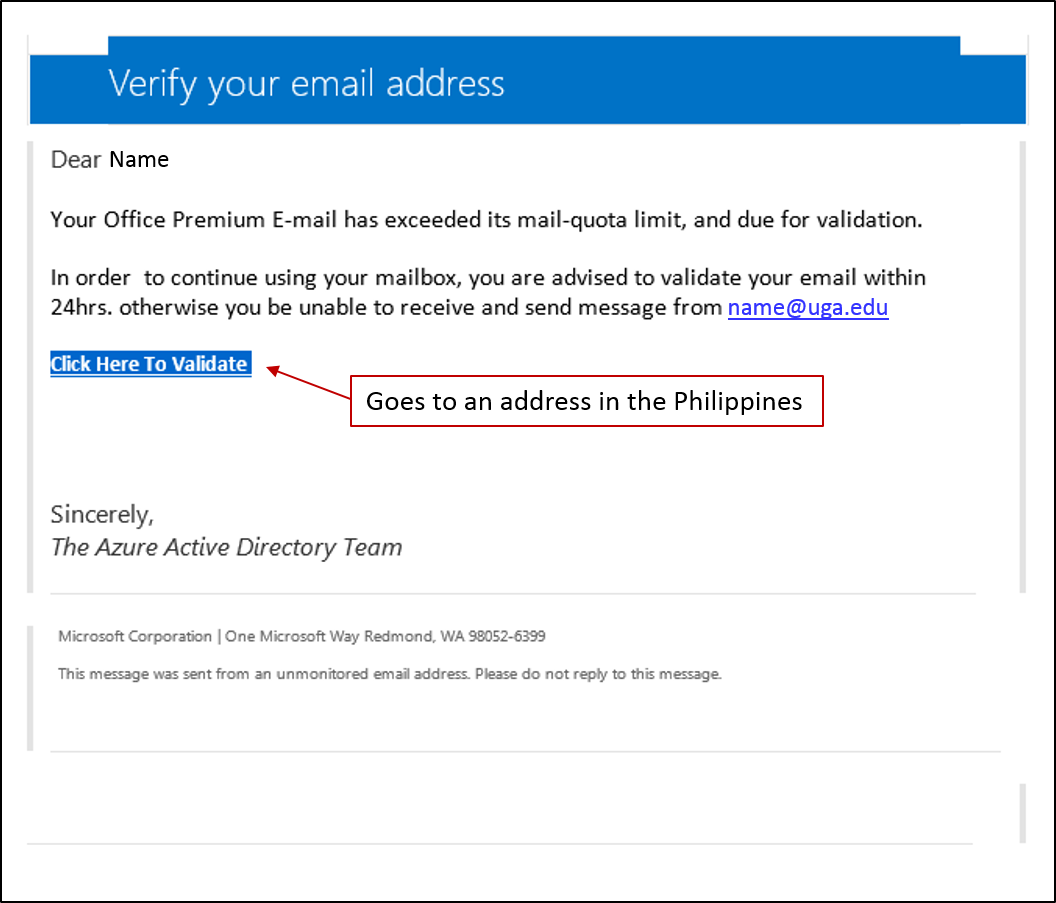 Remember all y'all - EITS is not going to email you and tell you to validate your UGAMail account. And if they did, they certainly would not claim to be the Azure Active Directory Team.
Widespread Phishing Panic
Reported May 3, 2017
Well, it could have been a panic, but our phish spotters won the day!
A well crafted Google Doc-based phishing attack was received by approximately 1 in 5 mail boxes here on campus. We very proud to say that fewer than 1% of recipients clicked on the link in the message. (That's waaaaaaay below the average response of around 11%.)
Google responded to the attack, shutting down the pages related to the phish quickly and efficiently, but not before the message made its way into several mail providers' systems.
The attack is not 100% undetectable, but the only thing to set off our phishing sonar is the 'To' field. We got blind copied in a huge list, an indicator that there may be a problem.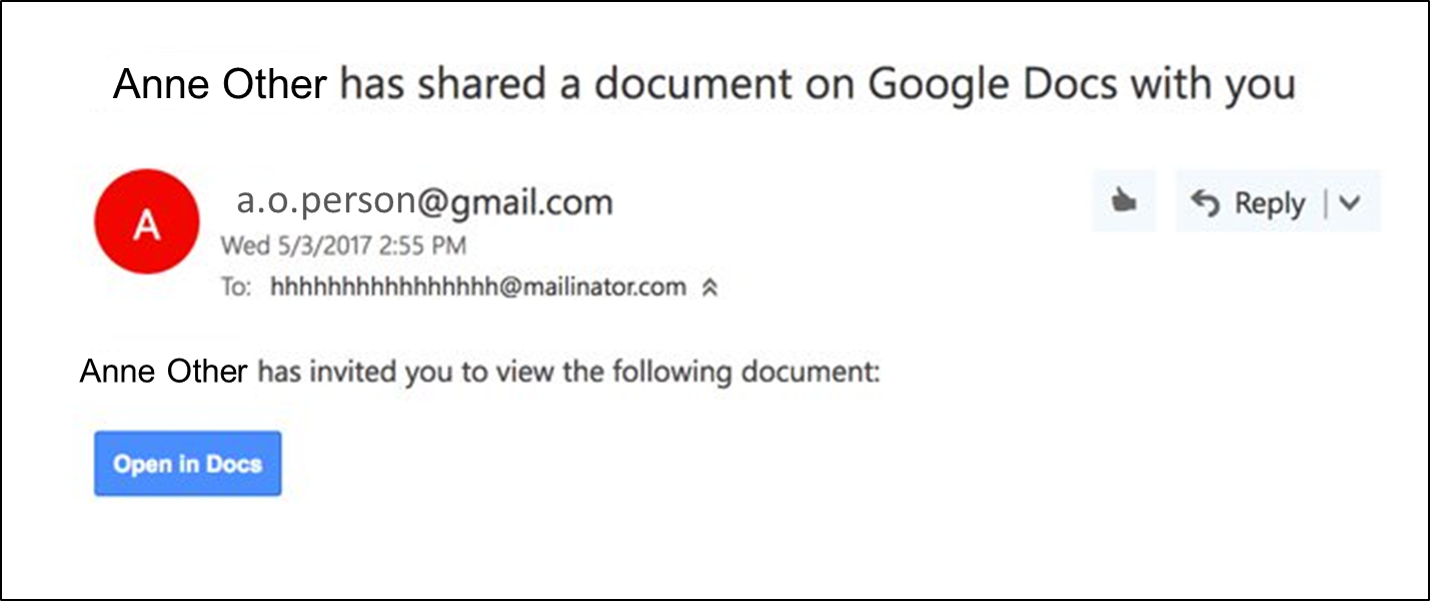 But Fresh Phish, you ask, would you really open a randomly appearing doc? Most people would ignore that, right?
Not if the claimed sharer was one of our actual contacts. Not all recipients got a share notice from someone they knew. Many did. If the person sharing the doc had a name we recognized, we would have been much more likely to click that link.
Think of the ramifications for students - last minute project sharing with that person in class whose last name they can't remember increases the likelihood of a click through. And arriving during finals and commencement time has the potential to make that click far less likely to be remembered down the road.
The phishers know us. They know how to manipulate us. It's up to us to not let the phishers lure us into becoming victims of their scams.
Think before you click, yo. Phishers gonna phish.
Phish + MAC Malware + Tax Season = Big Danger
Tl;dr - Y'all are spoiled. Read the entry. Okay, okay - Several online security and anti-virus sites are reporting a phish email distributing nasty Mac malware called "DOK".
Heads up, Phish Spotters!
There are reports circulating on the Internet of a new piece of malicious software (malware) called "DOK" that affects Mac OS users. You can Google "DOK malware" if you need technical info.
The malware is being distributed as part of a phishing attack. If you fall for the phish, you will download malware that can gain admin privileges on your machine and give phishers access to all your communications - even the the SSL encrypted ones.

A lot of people still think that using a MacOS protects you from malware. But McAfee Labs says attacks on Apples were up by more than 700% in 2016. Trends like that don't go away. So, we are likely to see more Mac malware in the future.

Mac users are not protected from phishing either. Whether or not someone falls for a phish is all on them. Using the delete key to give phishing email the finger is the only way to avoid getting caught.

Here are the deets on DOK:
The malware is distributed as part of a tax-related phishing attack
DOK is concealed in an attachment
The phish itself claims that there are discrepancies in the recipient's tax return
Tax problems can easily make someone react with little thought - panic!
Opening the attachment downloads the DOK malware
The malware shoots out an OS security message instructing you to "update all"
The update triggers the malware, which installs a root certificate
Then DOK unistalls itself - making the attack next to impossible to detect
Mayhem ensues (Well, maybe not mayhem... but it won't be pretty.)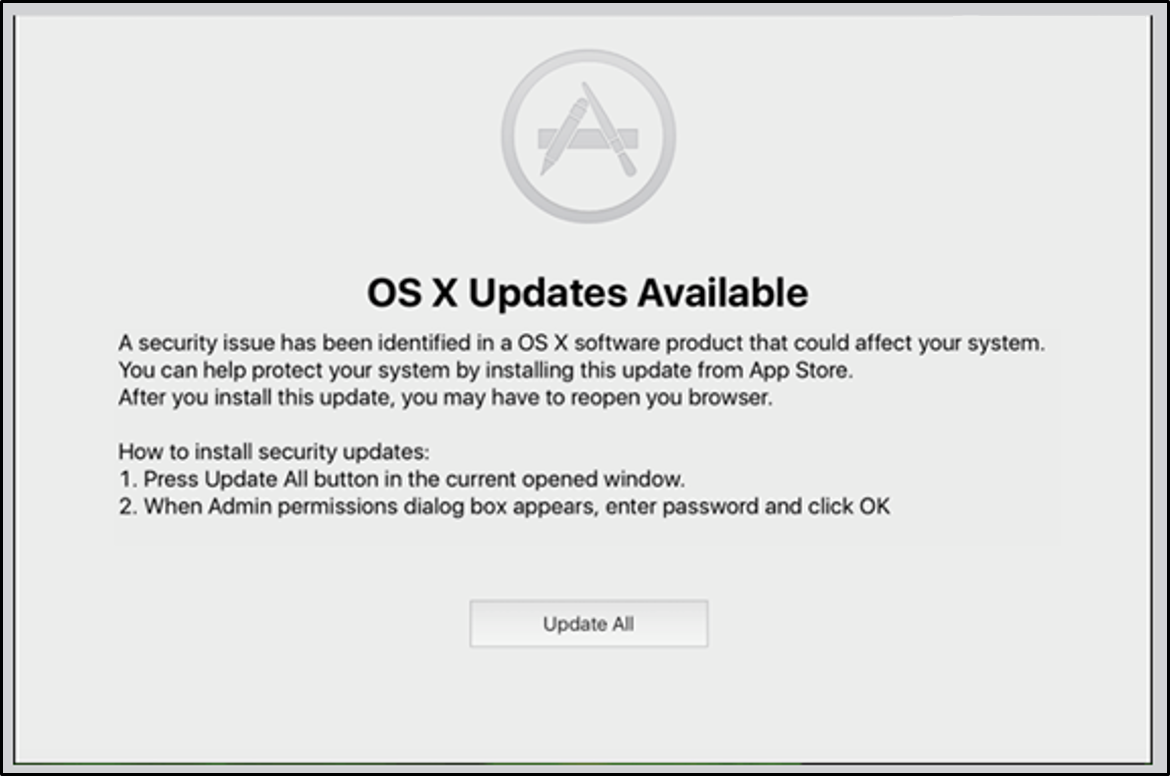 We all know that bad guys like to hit us in the wallet. And they love to prey on us, catching us unawares at tax time. (Want more info on tax season scams?)
The IRS won't contact you via email out of the blue. You can call them if you want confirmation that the email is real. You can also report the email by sending it to phishing@irs.gov
If you used a tax preparer, you can contact them to make sure the email is legit.
Be careful out there.
Mother's Day Scams - a Fresh Phish PSA
Tl;dr - There's a Lowe's coupon scam going around on social media. You are likely to see similar scams claiming to be offered by other companies (IKEA, Home Depot, etc.) How can you avoid getting caught? Easy peasy. Don't click to claim the coupon!
We all know that scams are everywhere. Phishers take advantage of us every way they can and they like to appeal to our wallets. Especially around holidays. Mother's Day is no exception - and while everyone is thinking about Mom, the phishers are hitting the social media networks with their tasty lures.
In this particular attempt, the phishers are making us an offer that is hard to refuse. Who wouldn't want a $50 dollar coupon from Lowe's?
Scam offers like this one frequently ask you to prove that you're eligible to get the coupon. That usually means providing a credit card number or other personal information as an 'eligibility check'. The unsuspecting can quickly fall victim to a scam designed to steal your identity while preying on your good intentions.
If you click the provided link (and we know you won't) it drops you on a very real-looking but bogus page with the Lowe's logo. In this particular case, there is a survey to take in order to claim the discount coupon. Can you guess what sort of info you have to provide about yourself?
So. How do you know this sort of scam is a scam? Let's look at the biggest of the red flags associated with this sort of too-good-to-be-true offer:
A free $50 coupon for EVERYONE!

Let's do some math.
If each of the 1.5 billion users on Facebook every day (according to zephoria.com) could use the coupon, that would be $75,000,000,000 dollars in discounts. Provided they could all get to Lowe's.
If only Lowe's regular customers took advantage to this "deal" (more that 16 million customers per week according to marketrealist.com), that would be about $800,000,000 in discounts.
The NASDAQ financial data for Lowe's shows that either amount is more than Lowe's annual income. Based on these numbers alone, you can assume this coupon is bogus. No corporation is going to go bankrupt over Mother's Day.
You always have to remember to look beyond the deal when it comes to coupon scams on social media sites. Use Google to see if there is any news; visit Snopes.com to see if a scam has been reported or do the math.
By the way, this scam is big enough to have made it onto several news channels. You probably won't see this scam in your social media feeds because of the exposure.
You may see other similar offers, though. Bogus IKEA, Home Depot and Walmart coupons are popular scams among phishers. they crop up ovr ans over again. Like other forms of identity theft, falling victim to a coupon scam can have long lasting ramifications.
Stay alert and be careful out there in the Net. Phishers gonna phish.
Unusual sign-in activity: A Well Crafted Phishing Email
Reported on March 28, 2017
Welcome to Fresh Phish's first ever guest post.
Douglas Stewart, Senior IT Manager at Griffin, contacted us to share an excellent example of a sophisticated phishing attempt. Doug's comments and advice were so good, we contacted him to get permission to post them here.
"I know most of us get phishing emails and most everyone has learned very well how to spot them. This morning I was sent one that is a very professional looking email – it is grammatically correct, the email is (supposedly) from Microsoft not UGA, and this email looks very much like genuine emails Microsoft does send out if unusual activity occurs on your account. Since this email is very different from the typical "UGA Helpdesk Administrator" with poor grammar and obvious bogus links phishing email we usually get I decided to take a screen print and remind folks there are some very polished phishing emails out there as well. If you open the attached file you can see where the link to get further instructions does not refer back to Microsoft or one of its affiliate sites but instead goes to another website - a definite red flag for an email like this one.

If you do ever get an email like this and you are concerned maybe someone has hacked or accessed your account always go to myid.uga.edu and reset your password there. Just a general rule of thumb, never click a link to change a password unless you have expressly asked for one to be sent to you. As always feel free to forward any suspicious emails – I would rather tell 100 people its valid than have 1 person click on a bogus one."
We agree with Doug 100%. The email in question is provided here. We know it's way too small to read - so if you click it, you can open it in a new window for a better look.
Thank you so much, Douglas for contacting us with this whale of a phish - one that is very targeted and intended to net a big return.
You Have 1 New Message and Important Notice
Reported March 21. 2017
Tl;dr - We respond to too many phishing messages without thinking. That gives online criminals too much control over us. It's time to pay more attention!
Sometimes the simplest phishes are the best. This one is rather well crafted. It's scary that we have not seen many reports of this phish. That could mean one of two things: Either our expert phish spotters are diligently deleting the email, or people are being tricked into responding.
Why did it work? We can speculate a bit.
The message says it comes from a UGA Admin - an important person
The tone is urgent
A link is right there! Right there!
As social creatures, humans tend to respond to authority. A sense of urgency can spark a stimulus response - think carrot and stick. Plus, we are conditioned to click links and the phishers have provided one that's easy to use.
So, that means the bad guys have pushed our social buttons, emotional buttons and physical buttons. We all need to think and not respond. Do not give the bad guys that much control.
You have to question emails like this one. Get in the habit of asking questions like:
Who is the sender?
Are they an Admin?
What kind of Admin could have sent this message? (Admin of what?!?)
Why would I be getting a message from an Admin?
Why doesn't the Admin identify themselves?
Why am I not addressed by name in the email?
If I mouse over that link (without clicking!) where does it go?
Why is there a direct lnk in this message and not one I can copy and paste?