Project Overview
Blackboard Collaborate will be decommissioned on December 31, 2020. After this date, Zoom will be the primary web conferencing solution available to instructors within eLearning Commons (eLC). During the fall 2020 semester, instructors that need to incorporate web conferencing into their courses in eLC may use Zoom or they may continue to use Blackboard Collaborate. After December 31, 2020, Blackboard Collaborate will no longer be available and Zoom will be the supported web conferencing tool within eLC.
EITS will be completing a series of activities throughout the summer and fall to integrate Zoom with Kaltura.
Activities to integrate Zoom with Kaltura originally scheduled to be completed on May 29-31, 2020 were completed July 31-August 2, 2020.
Activities to add the link to the MyID based Zoom login for UGA Accounts to eLC were completed on May 8, 2020.
EITS will work closely with the Center for Teaching and Learning (CTL), the Zoom Administrators in all major units, and the eLC Collaborative Administrators in all major units throughout this transition. There will be a series of communications, trainings, and other preparatory tasks so that faculty are prepared to use Zoom as their primary web conferencing tool in eLC for the spring 2021 semester and future semesters.
EITS will host a series of Informational Sessions to cover upcoming Zoom integrations for Kaltura and eLC. These meetings are open to all IT professionals on campus and will feature training on how to administer and provide services for the new integrations. Attendance is encouraged as this will be the best opportunity for dialogue and feedback.
---
An informational session was held Thursday, April 16 from 2 to 3 p.m. regarding the Zoom/Kaltura Integration and Collaborate Decommission.

The recording is now available at April 16 Informational Session.
---
PROJECT TIMELINE - Updated June 9, 2020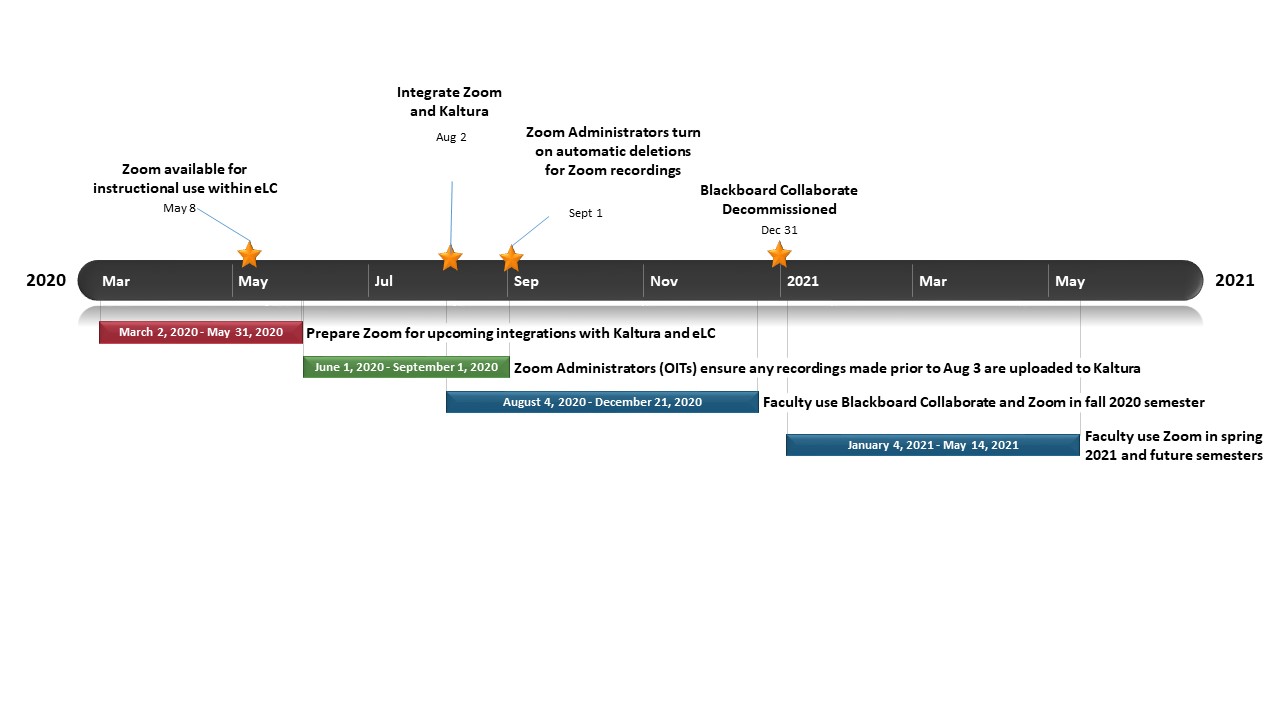 FREQUENTLY ASKED QUESTIONS
Last Updated: August 25, 2020