VPN client to be updated with new look
Thursday, April 18, 2013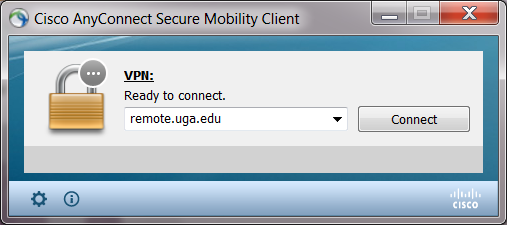 The University's VPN (Virtual Private Network) will be unavailable for users Friday, April 19, from 5:15-7:15 p.m. for an upgrade. After the upgrade, users may notice a different look of the VPN client.
EITS is updating the VPN client — the mechanism to enter the secure network for off campus users. The VPN client will be updated from version 2.5.6005 to version 3.1.03103.
The new version has the same functionality of the existing VPN client, but has a different look. Users should be aware of this visual change. Users will get the updated client the next time they try to connect to the VPN after EITS completes the update on Friday evening.
Benefits of the new VPN client are compatibility with Windows 8 and later versions of Mac OS X.
The University's Information Security office has more details and instructions about the VPN on its website. Users may download the new version (3.1.03103) in advance. A view of the new VPN client is attached.
To follow the progress of the VPN update, visit the EITS Systems Status page.
For assistance, contact the EITS Help Desk at 706-542-3106 or helpdesk@uga.edu.