Print Kiosks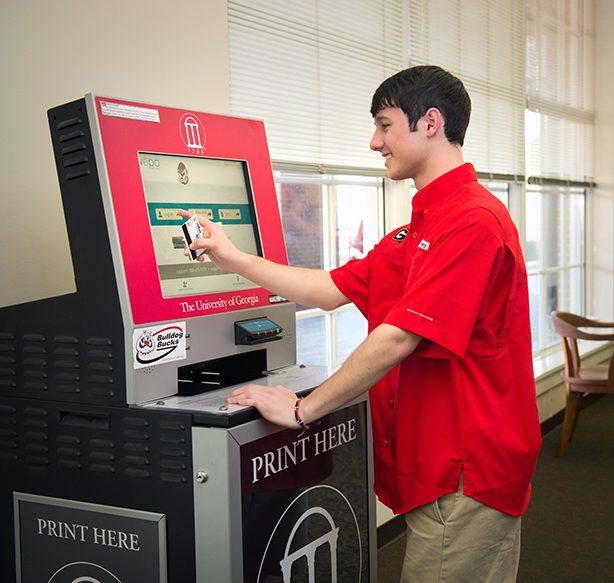 No space in your dorm room for a printer? Forget to print a class assignment? Run out of ink in your personal printer?
Use wepa print kiosks, the University of Georgia's cloud-based printing service for students!
The easy-to-use kiosks provide students with affordable printing options in more than 40 locations across the University of Georgia campus.
Users have four options to send their documents to wepa before printing at a kiosk.
Upload their document(s) from their computer to

wepa's website

;

Download wepa's print driver software on their computer and use it to upload documents to the wepa cloud.

Install the wepa Android or Apple mobile app on their smartphone to upload their documents to the wepa cloud.

Store their documents on a USB flash drive to use at a kiosk.
Print jobs can be stored in the wepa cloud for 96 hours. Students can print documents stored in the wepa cloud at any print kiosk.
Students may use Bulldog Bucks, a credit/debit card or funds deposited into a wepa account to pay for printing.
The cost is $0.07 for black and white prints per a page, and $0.50 for color prints per a page. A $0.20 surcharge will apply for each transaction paid with a credit/debit card. The additional surcharge can be avoided by paying with Bulldog Bucks or a wepa account that has been deposited with at least $5.
Print kiosks are located throughout the UGA main campus, Health Sciences Campus (HSC) and the Gwinnett campus. The wepa kiosks are clearly marked with "Print Here" and the UGA logo on the panels.
You can find the locations of all the kiosks on the campus map in the UGA Mobile App.
The print kiosk locations are:
Main Library, near reference desk
Main Library, first floor, south side, near room 119A (wheelchair accessible)
Main Library, fourth floor
Science Library, near reference desk
Science Library, 3rd floor study area
Law Library, printing room (two print kiosks, including one wheelchair accessible)
Law Library Annex-A210
Veterinary Science Reading Room, entrance
Joe Frank Harris Commons, main lobby
Snelling Dining Hall, main lobby
Oglethorpe Dining Hall, main lobby
Bolton Dining Hall, main lobby
Health Science Campus, Russell Hall, second floor
Ramsey Student Center, second floor, near room 213
Dawson Hall, first floor, near entrance from parking lot
Dawson Hall, second floor, near room 200
Myers Hall, first floor, near room 195AA
Creswell Hall, first floor, near room 195H
Aderhold Hall, second floor library, room 207
Biological Sciences, fourth floor, near room 404E
Park Hall, first floor, elevator lobby
Psychology, first floor, Baldwin Street lobby
Lamar Dodd School of Art, second floor student lounge
Department of Chemistry, Chemistry Learning Center (CLC), sixth floor
Gwinnett campus, first floor, room 128
Moore College, room 310 (computer lab)
Veterinary Teaching Hospital, Building 3081, room 1912
Carnegie Library, Health Sciences Campus
Science Learning Center, first floor central lobby
Science Learning Center, second floor central lobby (wheelchair accessible)
Science Learning Center, third floor central lobby

Brumby Hall, lobby near room 195C

Brown Hall (Health Sciences Campus), lounge area across from reference desk

Building 1516, lobby near room 112A

Rooker Hall, outside computer lab, room 195B

Hill Hall, main lobby, right of reference desk

University Village, in computer lab

Milledge Hall/Resource Center - In study area near Room 271
Hugh Hodgson School of Music, second floor lobby
The Miller Learning Center (MLC) features a number of print kiosks, which are available in lieu of consumer printers typically seen in computer labs.
First floor, near room 147
Second floor, across from Jittery Joe's
Second floor, near room 251
Third floor, in the 3 East wing
Third floor, in the 3 West wing
Third floor, in 3 Central (wheelchair accessible)
Fourth floor, in the 4 East wing
Fourth floor, in the 4 West wing
Print at any wepa print station at the University of Georgia and other locations. Find additional wepa print stations.
More information
UGA installed wepa print kiosks based on student feedback. The wepa print kiosks are funded by the Student Technology Fee.
EITS coordinates WEPA print kiosks at the University of Georgia. UGA departments or units interested in learning more about this service may view the EITS cost recovery rate chart and service details page. For more information, please email EITS at ctshelp@uga.edu.