Getting Connected in University Housing
University Housing offers wireless and wired services for its residents in each building.
These instructions outline how residents may receive these services in University Housing at the University of Georgia.
---
To connect your mobile device or computer to a wireless network, select the PAWS-Secure wireless network on your devices.
To connect to PAWS-Secure, go to Settings on your device and select wireless networks. Select PAWS-Secure, and type your MyID and password.
You can find complete instructions for connecting the campus wireless networks, including PAWS-Secure, eduroam and guest wifi, visit our Internet Connection Guide.
Personal wireless routers and wireless printers interfere with PAWS-Secure, which creates connectivity issues for everyone around you. People using personal routers or wireless printers will be asked to remove it from the network.
The wireless network does not support smart home devices, such as Amazon Echo, Google Home, Apple HomePod, or Hue Lightbulbs.
---
All of the residence halls have Ethernet connections, but there are two different forms of Ethernet access in the residence halls. Please look at the connection in your room to see which best resembles the configuration in your room. You can find more information in our Internet Connection Guide.
You will need to provide your own Ethernet cable to connect to the wired network. You can find these in most stores that sell electronics.
Configuration 1: Cisco Access Point
This access point can be identified by a Cisco logo on the front that resembles the box pictured. This box contains several active Ethernet ports. You may plug in your devices to this box. Open a web browser on your device and register it on the Device Registration Portal in order to access the Internet.
If your room does not have this box, please look at Configuration 2 for instructions on getting your ports activated.
Note: All ports are active in the following residence halls and do not require a request to activate ports: Mary Lyndon Hall, Morris Hall, University Village, Gilmore Hall, Kenny Hall, McGowan Hall and Brown Hall at the Health Sciences Campus.
Configuration 1: Cisco Box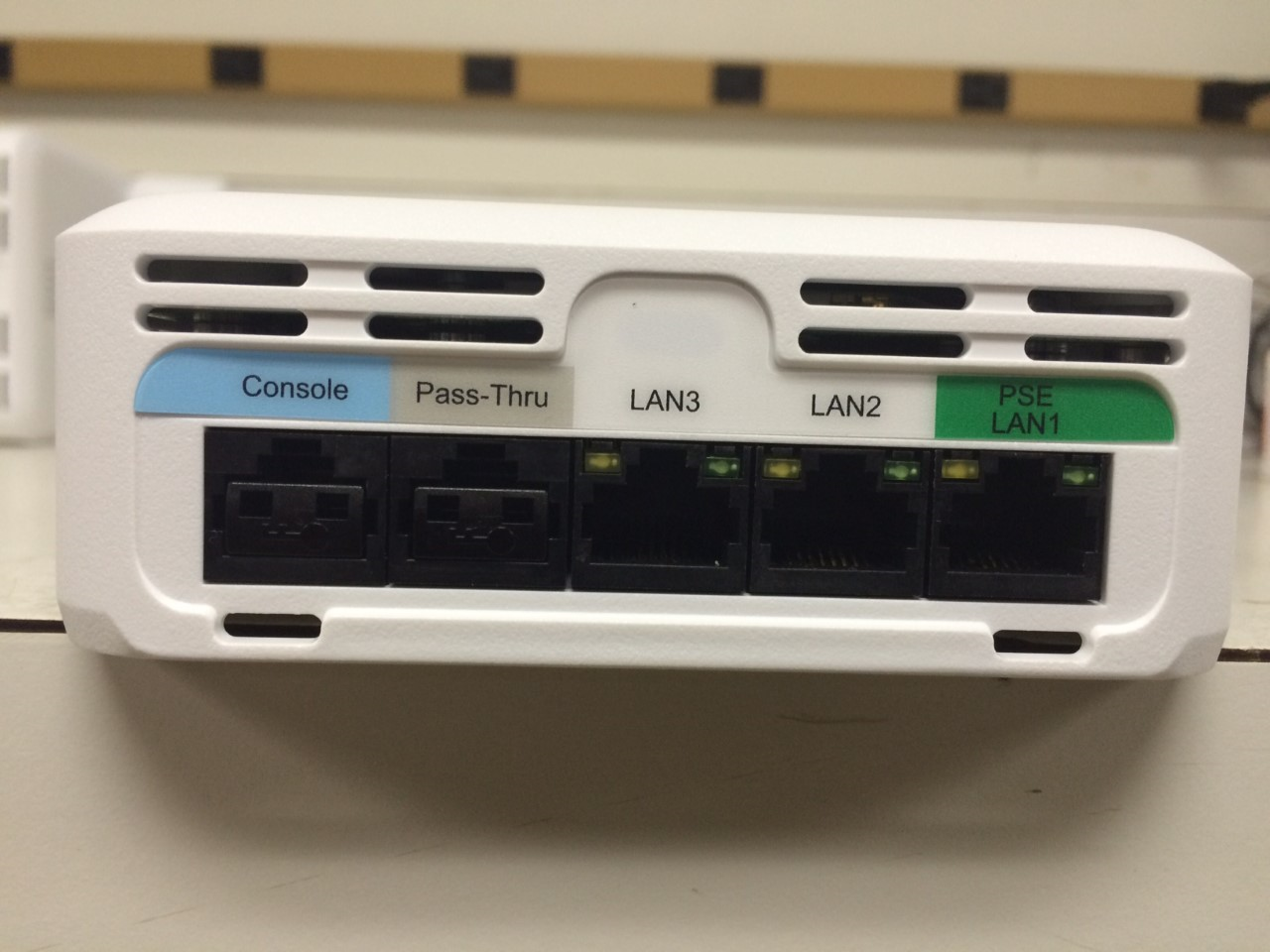 Example of Ethernet ports available on underside of wireless access points
---
Configuration 2: Standard Ethernet ports
If your room does not have a Cisco box, your room is equipped with a standard Ethernet port. A sample port is pictured. Many Ethernet jacks may also be orange or red.
Try plugging an Ethernet cable into the port, connected to your device. If the port does not automatically connect, please follow the steps below as your port is not currently active.
To activate a port, submit a request to EITS. Once the port has been activated, you may plug in your devices to receive Internet service.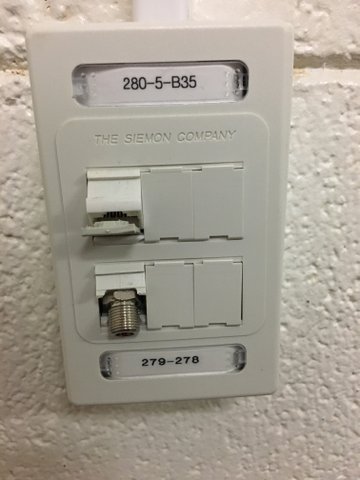 Configuration 2: Standard Ethernet Port
---
Some devices can cause significant interference with UGA's wireless networks and diminish wireless performance for you and your neighbors.
For the best wireless performance, don't use banned devices, including, but not limited to:
Personal wireless routers
Wireless switches or hubs
Cell phone mobile hotspots
Wireless printers
Smart home devices
If you are found to be using any of these devices in University Housing, you will be asked to remove it from UGA's network.
---
Before you can use a smart TV or game console in your room, or connect your laptop to a wired connection, you will have to register your device with the UGA wired network. You must be connected via an Ethernet cable to register your device.
To register a game console or other devices without a web browser, visit the EITS Help Desk site for instructions.
Step-by-Step Setup
Connect your device to the Internet and open a web browser. If your device does not have a web browser, skip to step 3.
In your web browser, you should automatically be directed to the UGA network registration page. If so, accept the terms and begin the registration process by providing your UGA MyID. If you are not, in the web browser bar, type drp.uga.edu and follow the instructions to register your device.
If your device does not have a web browser or you cannot register at drp.uga.edu, call the EITS Help Desk at 706-542-3106 for assistance.