UGA Mobile App a "touchpoint" for the student experience
Friday, February 25, 2022
As part of February's weather drill, many students, faculty, and staff got to test a new way of getting timely campus alerts and news: push notifications to the official UGA Mobile App.
A push notification about the biannual UGA Alert Test and Severe Drill went out to approximately 22,000 users of the app.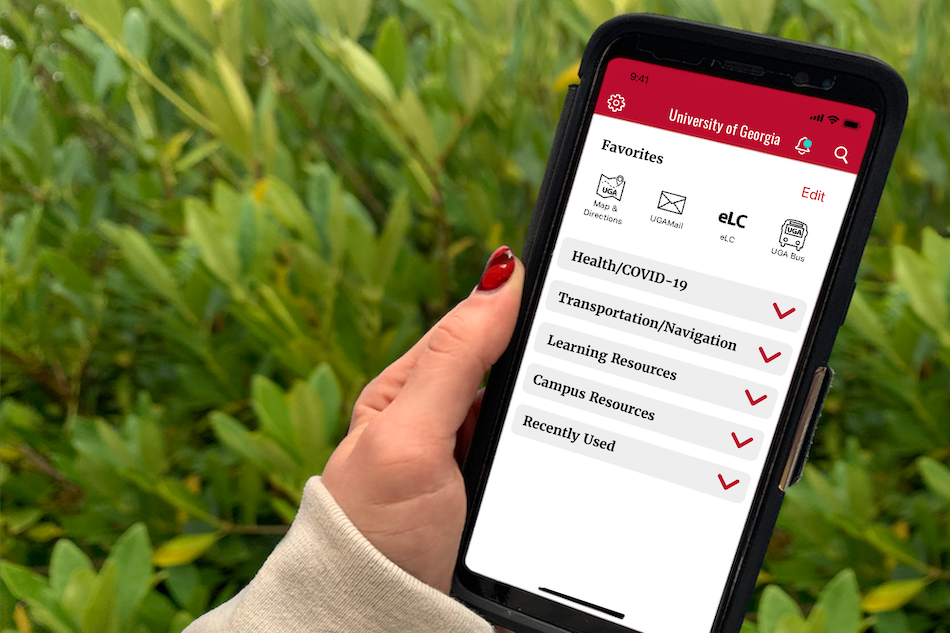 For Misha Ul-Islam, UGA's Student Government Association liaison for the app, the test brings full circle an idea that started with a real inclement weather event on campus two years ago.
"Back in 2020, there was a tornado warning, and everyone had to go to shelter. Everyone received the emails, but with push notifications people could have found out via the app," said Ul-Islam, a fourth-year biochemistry and biology double major. UGA Alert, UGA's emergency warning system, also allows for optional notifications via phone calls, text messages and a desktop notification app.
Ul-Islam has been collaborating with EITS's mobile app team, bringing them feedback and ideas from fellow students and SGA members, since she joined SGA in 2020. Members of the mobile app team, SGA and student affairs meet regularly to discuss how to improve the app.
"We're able to collaborate and share ideas monthly with each other," said Amanda McDaniel, the team lead for the UGA Mobile App. "After they give us their ideas, we go back and start to sketch out designs for the new features. We conduct user studies for those design ideas. The programmers program everything, the designers create prototypes, and we bring our efforts back to Misha and SGA."
The length of time between idea to implementation varies, depending on the new feature. Implementing push notifications in the app took about a year, because of delays stemming from the COVID-19 pandemic.
Other recent changes have ranged from simple home screen improvements to new modules for Health and COVID-19, but for Ul-Islam, the goal for the app has been about the student experience from the very beginning.
"We wanted it to be a touchpoint for everything a student could possibly need on campus," she said.
The mobile app has evolved significantly since EITS introduced it to campus in 2013. At the time, the app contained only four modules, and was web-based, meaning tapping on a module took users to a web browser.
A bus tracker was added about six months after the mobile app debuted, and soon became the app's most popular feature. But when the university pivoted to more online learning and virtual events due to COVID-19, modules with online access to UGA resources, such as eLearning Commons (eLC) and UGAMail, saw heightened use.
Currently, the app has about 15,000 daily active users and has been downloaded more than 108,000 times. It is available free on the App Store for iOS users, and Google Play for Android users.
It has moved away from being web-based to becoming a fully native app, meaning it is programmed for specific device platforms, and able to take advantage of device features. Other modules include a campus map with directions, a parking deck capacity checker, a dining hall capacity checker, access to UGAMail, Athena and DegreeWorks, wellness resources, links and more.
Push notifications were turned on for a small group of users in December 2020; they received notices about student account balance payment deadlines and drop/add dates. The UGA Alert severe weather drill in February went out to all users of the app.
With the exception of UGA Alert messages, app users can turn off push notifications in the app, if they choose, but Ul-Islam said the feedback she's received so far on the feature has been positive.
"Students have really enjoyed seeing these reminders; it's proven very helpful to a lot of them. Everyone I have spoken to has seen the value in what we're offering," Ul-Islam said.
More updates are planned, McDaniel said, starting with the app's home screen. The team plans to add photos and a scrolling message, as well as an easy-to-navigate bottom bar and an updated favorites feature. Users will be able to choose which modules appear in this bar on the app, allowing for easier one-handed use and customization.
"Users really like applications that are able to be customized to them," McDaniel said.
A capacity checker for the Ramsey Center is also planned. Similar to the dining check and parking deck capacity modules, students, faculty and staff visiting the fitness facilities on campus could see how much space is available.
Students, faculty, staff, and other mobile app users can submit their ideas and feedback through the Mobile App Feedback Form, available under Links in the app. There is also a Qualtrics form on the mobile app website. Students can also reach out to SGA with their ideas; the organization conducts a yearly survey requesting feedback on the mobile app.
Ul-Islam said she feels honored to have had a role in improving a tool that many of her fellow students use every day. Working on the app has also been a valuable learning experience for her, she said.
"Working on the mobile app has allowed me to be a voice for the student body. I formed relationships with a lot of different faculty and administrators. It opened a lot of doors for me and gave me a lot of resources," she said. "Being part of something that is so critical to every student is such an honor. For every student that is more informed, that's something I was a part of, that I spearheaded. To have that as my legacy as a student here fills me with pride and joy."