UGAMail, Single-Sign-On now available in UGA Mobile App
Friday, January 15, 2016
The UGA Mobile App has been updated with more user-friendly features, including the addition of UGAMail and single-sign-on for iOS devices.
At the request of mobile app users, a separate module for UGAMail has been added, so University of Georgia students, faculty and staff can access their web-based university email directly through the app.
"We read all the feedback we get from users through the app's feedback function, and adding UGAMail to the UGA Mobile App came up several times as a feature request," said Lance Peiper, IT manager for the mobile app. "Having UGAMail in the mobile app is also a lot easier for students than trying set up UGAMail through a mail client on their device."
Users with iOS devices with Touch ID will also be able to sign into CAS-authenticated modules on the app, such as eLC and UGAMail, using the fingerprint scan on their device. iOS users with Touch ID on their devices will be prompted to set it up when they open CAS-authenticated modules in the updated app. They can also set up Touch ID anytime by going to the UGA Mobile App's settings.
"The new Single Sign-On feature was designed to simply the mobile authentication experience for the UGA services in the app," Peiper said. "With the advancements made by Apple's Touch ID system, a user is able to securely save their MyID and password in their mobile device and insert them into CAS-authenticated modules, with just a touch of their finger on the sensor."
Users are automatically signed out of any CAS-authenticated modules in the app after 30 minutes or when they lock their phone or tablet. When a user changes their password, they will also have to update their password in the app before they can access any CAS-authenticated modules.
Single Sign-On will be extended to support Android devices with fingerprint readers soon.
The new version of the app also includes options to customize your home screen by adding and removing modules, as well as improvements to the bus tracker.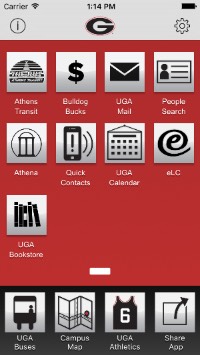 The app is updated on a regular basis, with input from the UGA Student Government Association, EITS, and other partner departments on campus.
"If you have ideas or want to see new enhancements to the app, please submit feedback through the mobile app or contact us directly," Peiper said.
The UGA Mobile app is available for the iOS and Android devices and includes bus trackers for UGA Campus Transit and Athens Transit, an interactive campus map, access to your student account and Bulldog Bucks, a dining hall meal planner, information on gameday parking and more. It's the best of the Bulldog Nation in one central app.
To download the app, visit mobileapps.uga.edu. For more information about the UGA Mobile app or upcoming updates, contact Lance Peiper at lpeiper@uga.edu